This morning was the first time I have brought Love, Megan out into the real world (as in, not the internet). And let me tell you, it was so much fun! Just being there when people saw my things for the first time and hearing their comments was so worth the sunburn and sore feet. Although the sales sure didn't hurt either :)
Setting up my table was amazing and seeing everything spread out like that made me realize how much stuff I have made!
I had a lovely helper to assist me in preparing the table (twice actually since the rain caused me to close up and run for cover for a bit). She kept me calm and helped make everything look beautiful! How did I get so lucky to have friends like that?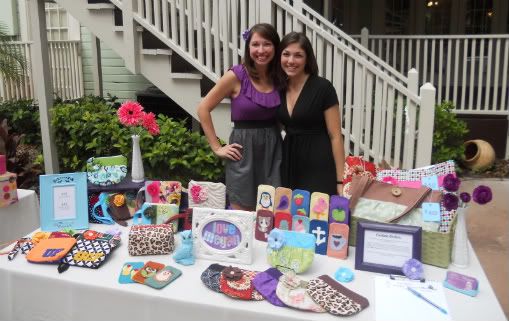 The
Summer Soiree
was a hit and I am happy to have been able to help raise some money for a great school like the Providence Academy. And now I am going to prop up my feet while wearing the cupcake pj's that I have had on since 3:30 this afternoon. Hope everyone had a great weekend!