Our tree is up, the house smells of pepperminty goodness, our stockings are hung, and tomorrow morning we are expecting a cold front. Perfection.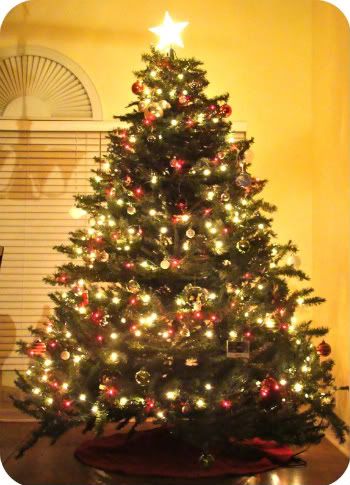 Last year we were given this tree by a friend of my momma's and this is the first time we were able to set it up. I love it! It can't compare to a real tree but it does have many charming attributes: it was free, it doesn't need to be watered, it's tall and full, and it's ours.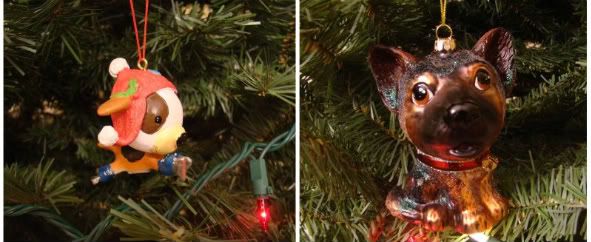 We saw these lovely pup ornaments at Target and couldn't resist getting one to represent each of our little beasts. And we will make our annual trip to Downtown Disney soon to pick out our ornament for the year (a tradition we started for our first tree together).
To show how far we have come (tree wise) take a look back at our Christmas trees the past two years (because I can't find a picture of our first tree):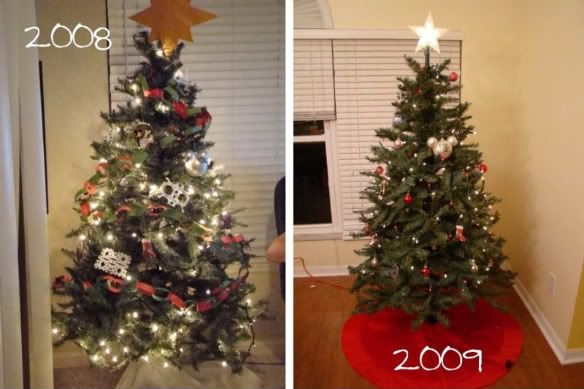 2008: The year before this (aka the picture that disappeared) we only had the construction paper chain, snowflakes, and "star". All handmade of course, I know it's hard to tell. But in '08 we added lights ("ooo") and three real ornaments ("ahhhh"). We also threw a pillow case halfway over the base of the tree. You know, to keep it classy.
2009: An actual star! And it lights up too! We are moving up in the world as you can see. A tree skirt was also purchased along with more ornaments. The paper decorations didn't make the move from our tiny apartment into our new house but I did save a few :)
Now we have a tree that fits our house and looks pretty great in my opinion. Stay tuned for more Christmas-y fun to come!