1. If you could have any talent and turn it into an occupation, what would it be?
Crafting, for sure. I'm talking about everything from making giraffes out of construction paper and popsicle stick picture frames to sewing fancy dresses and handbags bags. I realize construction paper animal developer (official title) may not be in high demand but that's why this is fantasy right? I would love, love, love to get paid the big bucks to create whatever my heart desired all day.
2. Would you rather have a house at the beach or a cabin in the woods?
Gee, that's a tough one! Why can't I have both?
I guess if I had to choose just one it would a house at the beach. Mostly because I don't want to get eaten by bears or mosquitos. Plus I think the pups would love to run around on the beach and maybe then I would finally get a tan. Although probably not considering I already live in Florida and look like I could be a vamp in Twilight.
3. Is there any meaning or reasoning for the names you chose for your child/children?
(a.k.a - my pups)
Boomer was named after Boomer Esiason, who was the quarterback for the Cincinnati Bengals back before I was born (ok maybe I was born, I'm just trying to make the hubs feel old :)) but he was the hubs favorite when he was little. It worked out because Boomer is the perfect name for this rascal. Plus that is what the hubs wanted to name out first child, like human child. This was a good compromise.
When it came time to name the next pup it was my turn and the hubs didn't oppose (I was in a fragile state so he let me do whatever I wanted even though he hates our pups name). Wentworth was named after Wentworth Miller. ::swoon:: I may have been slightly obsessed with Prison Break at the time. Wenty is just as lovable as his namesake ;)
4. What is your guilty pleasure?
chocolate. reality television. potato chips. wearing my pj's all day long. Britney Spears. cartoons (especially Disney movies). coloring in coloring books.
5. Do you live in a house that is deep cleaned or straightened?
A little bit of both. Our kitchen is deep cleaned (I hate a dirty kitchen) and everything else is always "picked up" as in uncluttered and things in their place. Deep cleaning for the rest of the house happens either when we are expecting company or I get the cleaning bug (which happens often).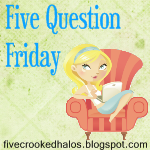 That's all folks! Have a great weekend!