You know the saying "We plan, God Laughs"? Well I love it. And today is the perfect example...
Sunday Plans (as of yesterday):
- Sleep in
- Wake up to coffee and pancakes
- Snuggle on the couch all day in pj's
- Watch football until 4pm
- At 4pm watch the Cardinals play the Brewers
Simple right? Those seem like harmless plans... WRONG.
See this happened at 8:30am to change our whole day: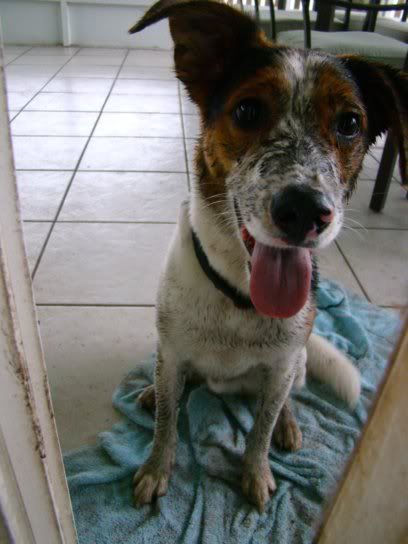 Boomer was already ushered to the shower by this point but picture this amount of mud times about 3 covering an extremely furry dog and that's what he looked like.
Re-vised Sunday Plans:
- Give both dogs baths
- Grab a granola bar and sip of cold coffee
- Clean the porch
- Clean the floors
- Clean the bathroom
- Clean ourselves
- Hopefully catch a glimpse or two of a football game
- Finish before 4pm so I can watch the Cardinals game
Shall we make some plans for tomorrow?
ps- When I woke up this morning the pups were outside playing so I asked the hubs if he checked to make sure it wasn't muddy since it rained all day yesterday. He said he checked and was surprised himself that there was no mud. When the pups finally came to the door to come in (just completely covered in mud) the hubs went outside and found one tiny little puddle in the corner of the fence and the pups were flicking it up all over with their noses and then rolling in it... because well that's what dogs do. At least they had a good time :)
pps- The hubs in no longer allowed to make such decisions before I awake.