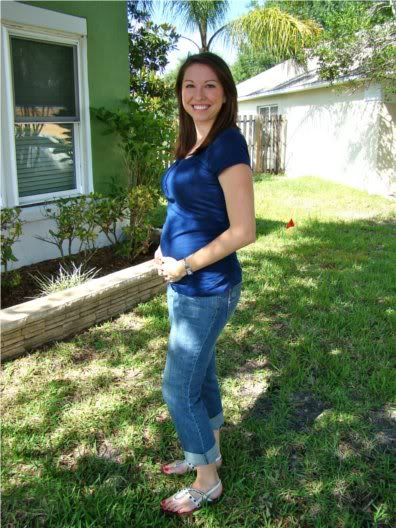 shoes: Payless
baby bump: 17 weeks
I look a bit of a mess but that's because we were only steppin' out to Home Depot to get some things for miss Sadie's room.
Last night I stepped out to a movie with some very lovely ladies but I went straight from work so I was still in my scrubs. We went to see Monte Carlo, and no none of us are 13 year old girls. It was very cheesy but right up my alley. I am such a sucker for those kinds of movies :)
________________________________________________________
In Sadie news we had another appointment on Friday with my OB. It was just to get more blood (my favorite thing), a tummy check, and to have a little chat. Sadie seems settled pretty nicely in my ute in right in place. My OB gave me the all clear to attend one of my dear friends wedding in Georgia Labor Day weekend (so excited)! And he answered all of my silly little questions including the fact that pregnancy has made my eyes swell. Yes my flippin' eyes. Therefore I cannot wear my contacts... Have I mentioned I loathe my glasses? Crazyness.
I hope everyone has a great 4th of July and enjoy watching fireworks with your non-swollen eyes (I'm jealous!).