20 weeks!! I can hardly believe it when I say it out loud but we are halfway through this pregnancy. The first half of this pregnancy has been absolutely amazing. My belly is becoming so round and my belly button is slowing disappearing.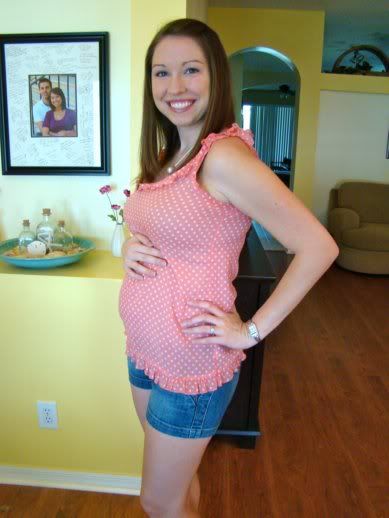 This picture just does not do my belly justice. I swear it is much larger in person.
According to our baby books Sadie is now the size of a cantaloupe. That is huge! She has also developed taste buds meaning she is tasting what I am eating now. So I have been attempting to cut back on the cookies and eat more veggies. But honestly just mentioning cookies makes me want them. Like now.
Also this week we started registering. We went to Target totally unprepared and registered for maybe fifteen items. It was fun and exciting but made me realize I have no idea what I am doing. So, if you know me at all you know what happened next. I went home and googled, searched sites, and asked my mommy friends/co-workers and made a very long, organized list of all of the many things we need. We are now prepared for our trip to Babies R Us next week!
But just because we are just starting to register doesn't mean Sadie has received gifts yet. My mom is out of control! She ordered Sadie her first doll/toy and it should be in later this week. I will be sure to post about it because it is pretty awesome. Other things she has purchased include the nursery furniture, maternity clothes for me, and lots of clothes for our little lady. We received our first box of diapers as well from my moms boyfriend (that's right. my mom has a boyfriend now). I have got to start taking pictures of some of the adorableness that is filling our guest room.
Now, at 4pm, I am going to go shower and change out of my pj's before the hubs comes home :)
_______________________________________________
ETA: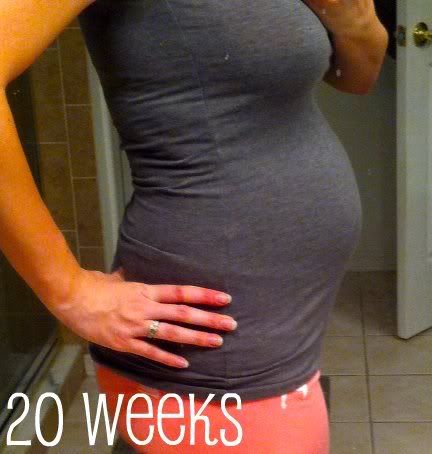 Better belly picture. Told you it was bigger :)