As soon as we found out we were having a girl I started picking out things for the nursery. The hubs finished painting today and the bedding and furniture has been ordered. Some may say I am crazy but I like to think of it as well prepared :)
Here are some purchases/ideas for Sadie's Nursery so far: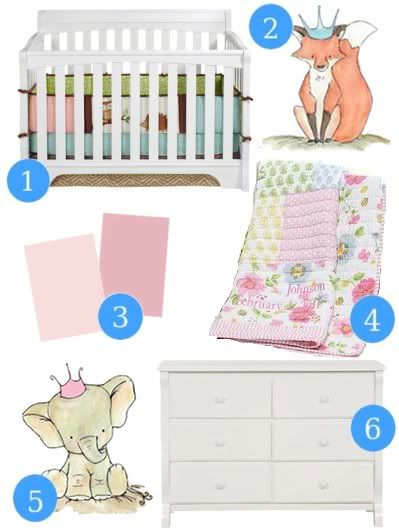 1. Delta Eclipse 4-in-1 convertible crib in white. After much research and many trips to the store we finally decided on this crib. It seemed sturdy and solid and had great reviews but was still very affordable. We purchased it online from Target because it was much cheaper there than anywhere else.
2. Print from
Trafalgar's Square
etsy shop. I fell in love with several of these whimsical prints and paintings a long time ago and knew we would use them in our nursery some day. Right now the plan in to go with a few from the crown collection. This little fox is one of my faves!
3. Behr paint. Southern Beauty & Colonial Rose. Even brighter on the walls and I love it!
4. Lily nursery bedding from Pottery Barn Kids. No longer found on the website but I was able to snag the quilt and some accessories before it disappeared. I love the color combo.
6. Delta Eclipse 6 Drawer Dresser. Also purchased from Target, with rave reviews. We plan on using the top as a changing table.
I can't wait to get everything in and start decorating and organizing!