Fantasy Bachelor time that is!
If you're new around these parts I've blogged about our "draft"
here
and gave an example of how the whole thing works
here
. We have a group of six ladies for this season and had our big draft last night before the premiere. There was a ridiculous amount of cheese, sparkling wine, and gossip! I loved every minute of it! All six of us are still a little skeptical of this years Bachelor,
Brad Womack
. Even though I didn't see his season the first time around, I'm just not sure if he has a whole lot of personality or charm despite his good looks.
Let's get to the good stuff... the chosen ladies! I started the night off with ten "interesting" ladies but after the big cut I am down to six. Here they are:
(Keep in mind that these ladies were picked before I knew anything about them other then looks, age, and occupation.)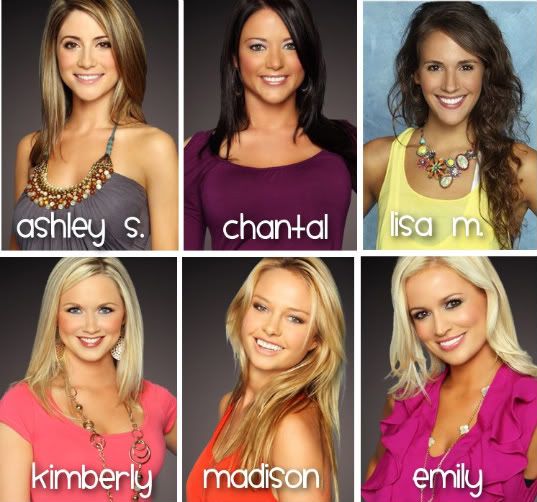 First impressions:
Ashley S. - My first pick and a good one. She seems sweet, has an adorable accent, and made me cry within the first 2 minutes since she, too, recently lost her dad. Seems to be a girl next door/ sweet southern belle type.
Chantal - She was drafted somewhere in the middle. She is very pretty but wasn't shown a whole lot so that's all I have to go by right now.
Lisa M. - Based on her little questionnaire thing I thought she was going to be a total hippie but she showed up over spray tanned and in ruby slippers (which I actually thought were cute). She's one of those that might slip through the cracks for a little while but doesn't have a ton of personality.
Kimberly - Wait who? I only picked her because she's from Orlando.
Madison - Um. The girl has fangs. Like on purpose and permanent. I picked her because she was supposed to be the hot model but it works out because she is the crazy person and they always get lots of points :)
Emily - My fave! Sweet southern belle. Gorgeous. Seems really genuine. I heart her.
So what do you think ladies? Do I have a winner amongst my girls? Who are you rooting for?