Last night was the Christmas party for the hubs work. This is the first company party we have attended since the hubs has been at his current job and it was a lot of fun! Ok, I admit that
maybe
I was initially super excited because I had an excuse to buy a new dress but still. The party was held at the new Amway Center (you know, where the Magic kick some butt). There were cocktails, sparkly dresses, yummy pastas, men with Christmas-y ties, and a large display of desserts and coffee (aka the way to my heart).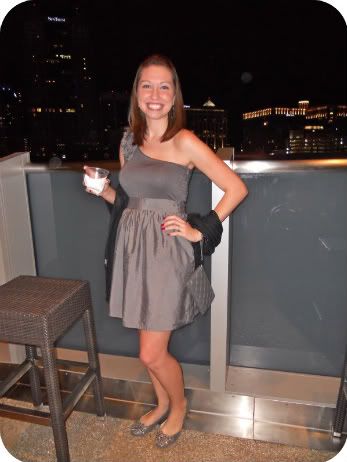 dress & adorable flats: Francesca's Collections
scarf: NY & Co.
wristlet: Forever 21
I feel like I need a disclaimer on this look a little bit. The hair and face look a bit disheveled because I just finished a twelve hour shift at the hospital and definitely got ready in the bathroom of our break room under terrible lighting. But don't those shoes make it all ok? I wish you could see them better because I am pretty sure they are the cutest flats ever seen.
This little ensemble will be reappearing in a few short weeks for my brother-in-laws wedding :)
Goodness. The hubs is too handsome for words. I am one lucky lady.
These pictures were taken on the terrace over looking downtown Orlando. Such a pretty view, they did such a great job with the new arena. Also, if you are reading this from somewhere cold, possibly with snow on the ground, please try not to hate me too much right now. If it helps, I am totally jealous of your snow.... sometimes.