Whether it's for a friends Christmas party, a cookie exchange at work, or a lovely little gift for the neighbors. Cookies are everywhere around the holidays. Sure, there are a ton of cutely decorated ones at the grocery store you could pick up on your way but if you really want to impress, homemade is the way to go (or at least partially homemade).
So far I have made two batches of homemade goodies and have plans for more on Christmas Eve. I wanted to share these super easy and delicious recipes. One is an oldie but goodie and the other is something new and very scrumptious!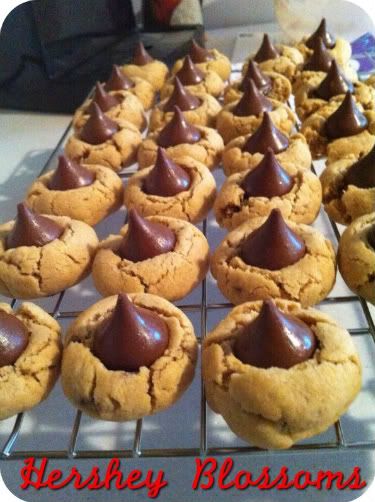 1/2 cup butter
3/4 cup peanut butter
1/3 cup granulated white sugar
1/3 cup light brown sugar
1/2 cup shortening
1 large egg
1 tsp vanilla extract
2 tablespoon milk
1 1/2 cups all purpose flour
1 tsp baking soda
1/2 tsp salt
48 chocolate kisses
Directions: Heat oven to 375 and remove wrappers from kisses. Beat shortening and peanut butter in a large bowl until blended. Add granulated sugar and brown sugar, beat until fluffy. Add egg, milk and vanilla; beat well. In a separate bowl stir together flour, baking soda and salt; then gradually beat into peanut butter mixture. Shape dough into 1 inch balls and roll in granulated sugar, place on cookie sheet. Bake 8-10 minutes. Immediately press a kiss into the center of each cookie. Remove from sheet and onto wire rack to cool. Then stuff in your face and enjoy :)
1 pouch Betty Crocker sugar cookie mix (this is where the whole partially made part comes in)
1/2 cup butter, softened
1/2 tsp mint extract
6-8 drops of green food coloring
1 egg
1 cup creme de menthe (I made it without this because they didn't have any at Target)
1 cup semisweet chocolate chunks
Directions: Heat oven to 350. In a large bowl, stir cookie mix, butter, extract, food coloring and egg until soft dough forms. Stir in creme de menthe baking chips and chocolate chunks. Drop teaspoon size chunks of dough 2 inches apart on baking sheet. Bake 8-10 minutes. Cool 3 minutes and then move to wire rack and serve warm. So yummy! They were a crowd favorite at work! Also, the dough looks like mint chocolate chip ice cream!
Goodness, I just love a reason to bake! I just have one request. Whatever you do, do not, I repeat do NOT let your husband bake. Or this might happen...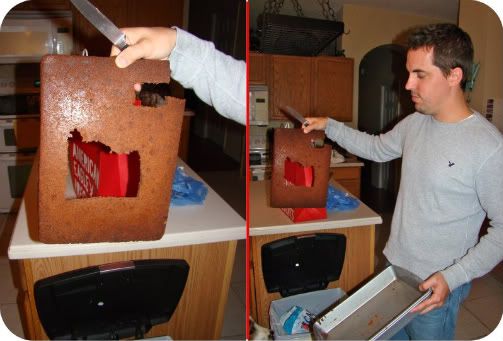 That? Oh that is supposed to be brownies. As in, made from a box brownies. We tried to eat them. We even cut pieces out of the center thinking that maybe it would be magically better than the corner. But it wasn't. Poor guy, he really tried. He must have left out an ingredient because... well you see what happened. A brick. And no the hubs didn't shank the "brownies" before dumping them in the trash, he just likes to pose with knives.
What are some of your favorites holiday cookies?