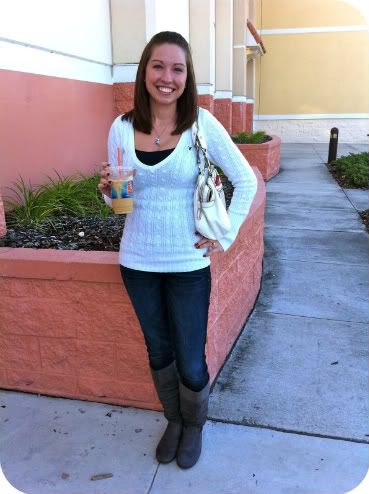 sweater: American Eagle circa 2006
tank: American Eagle
jeans: Aerie skinny
boots: Kohls
purse: Nine West
source of energy: Dunkin Donuts iced caramel coffee
Did I mention I worked at American Eagle for a few years and currently do floorsets for Aerie? You probably couldn't guess, it's not like I wear a lot of their clothes or anything.
We finished ALL of our Christmas shopping today! It feels so nice to be done. All of our presents are neatly wrapped and waiting under our tree to be passed out to friends and family. Call me crazy but I absolutely love wrapping presents. Bows, ribbons, name tags, coordinating wrapping paper, and way too much tape. The finished product is so pretty that I cringe a little when it finally gets ripped open. But that's the whole point right?
Have you finished your shopping yet? Are you someone that puts it off to the very last second or one of those crazy people that were done in August?