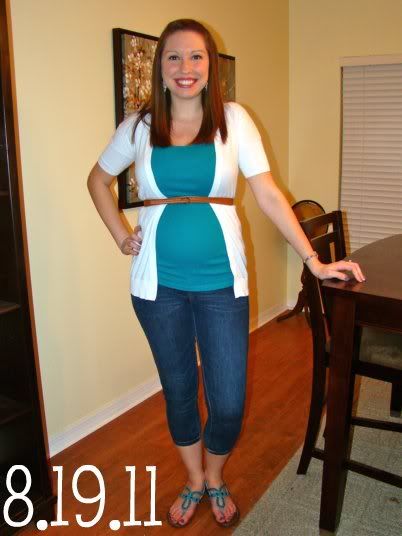 tank: Motherhood Maternity
cardigan: Old Navy
capris: Old Navy Maternity
belt: Target (came with dress)
shoes: Payless
Friday night (after a very busy 12 hour shift at work, hence the red feet and overall disheveled appearance) we headed downtown for our friends birthday celebration. Remember that
Stache' Bash
I went to last year? Well we continued that tradition this year with the Stache' Bash part 2. I may or may not have worn a stache on my belly... Unfortunately my camera died and I don't have evidence of this, however, I will be stealing pictures from friends and will share them when I do :)
________________________________________________________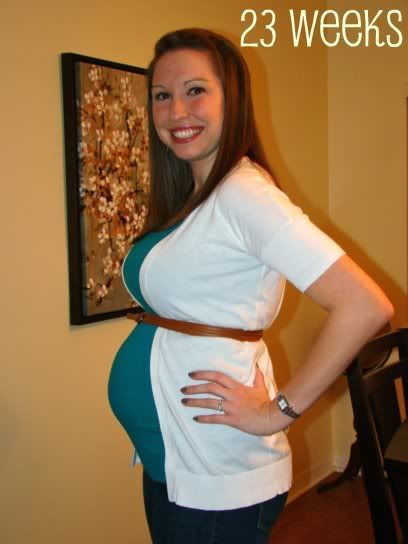 Whoa that's a real baby bump now! Over the past two weeks I really popped out there and I am lovin' it! The whole world can now clearly see that I am with child. And my belly has never had more action. It's like a hand magnet!
Week 23 has brought a little bit of nausea (nothing like before though!) and some more round ligament pain. It has also brought more pee breaks and a bigger appetite. But the best thing it has brought me? So much more movement! I feel little Sadie move so much throughout the day. She moves all around my belly, from my ribs to below my belly button. I love her kicks and jabs.
Other than the occasional nausea I have been feeling pretty good. There has been a lot going on around here lately and I am thankful to have the energy to handle most of it and the strength to handle the rest.
I am looking forward to getting more done in the nursery. The glider has been ordered, wooden letters for above the crib have been purchased, and the itch to start sewing has finally arrived. So hopefully there will be another update on that soon!