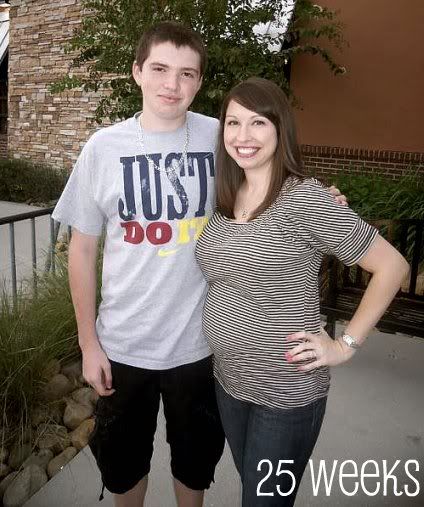 For once my picture is actually on the first day of the "week"! Here I am at 25 weeks with my not so little brother. We went to visit for a little birthday dinner to celebrate my brothers SIXTEENTH birthday. Ugh, why does he have to grow up so fast?
The hubs took me on a little maternity shopping trip yesterday as well. I can't explain what it is about new clothes (especially when you're body is going through such rapid change) that makes you feel so good. But it does. How did I get so lucky?
Pretty much everything is going the same this week with our little peanut. Her schedule has shifted from being up all night to being up all day. I hope this continues once out of the womb! Heartburn has become my nemesis and tums my newest side kick. I have been craving massive amounts of water and banana nut crunch cereal. Oh and gravy. On everything. Yum.
Tomorrow morning I am headed off to Georgia with the bestie so I will be MIA from the blogosphere and the rest of the internets (other than a few Facebook/Twitter checks) until Monday. I hope you all have a lovely long weekend!!