Phew! Let me just wipe off the sweat from my forehead and say so long first trimester!
I can't even explain what a relief it is to have made it this far in our pregnancy. The nausea is lessening but I am still pretty tired all of the time. It will be nice having my energy back but as crazy as it sounds I kind of miss the constant nausea. I know, I know, it's crazy! But it was a nice reassurance.
My belly is still pretty non existent except when I eat a lot haha but my clothes, especially pants and shorts, are awfully snug. And by snug I really mean they don't fit at all. It seems too early for maternity clothes but I am running out of options!
Our next appointment is next week for an ultrasound and blood-work to determine the chances of the baby having downs or other early complications. Fingers crossed for a good outcome.
I attempted to take a 12 week picture but it didn't turn out very well. Plus there just really isn't a whole lot to see other than the only pair of shorts that currently still fit while buttoned.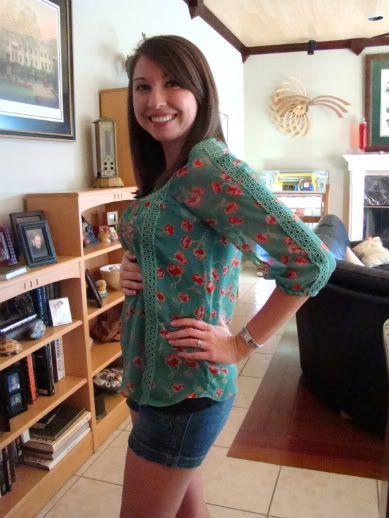 I hope you all had a great long weekend! I will be posting some adorable pictures of my niece later today so be on the look out! She sure is a cutie :)