This is a hard day/week for me. I miss my Daddy more and more everyday and Father's Day is yet another reminder that he is gone. But you know me, I try to make the best of it. Luckily I have an incredible father-in-law to celebrate and a husband that is going to make the most amazing father thanks to him.
Even though it's not really his first Father's Day yet, I decided to celebrate a little "pre" Father's Day with the hubs. I got him a couple of cards (one from me and peanut, one from the pups, duh.) and woke up early to make him breakfast and coffee in his brand new mug.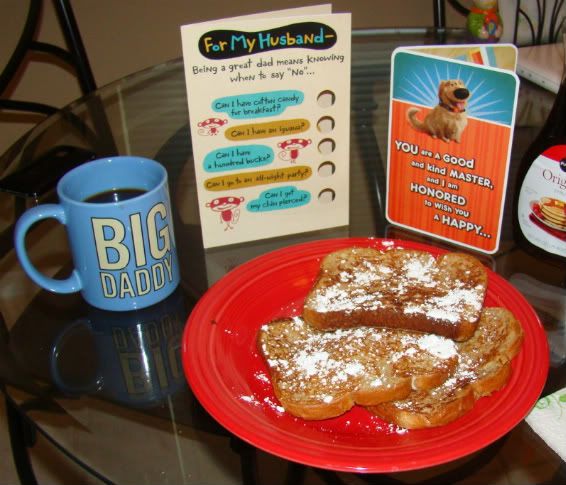 The boys showed their daddy some love while the hubs was on the phone with his dad. There was a lot of man love going on so I had to take a picture.
Happy Father's Day to all the dad's and those that are soon to be! Being a good and loving father is the most important thing a man can do. I am lucky enough to have witnessed a lot of that. And a very special Happy Father's Day to my Daddy who I know is watching down to hear it :)
Now we are spending the rest of the day picking out paint colors and bedding for the nursery!