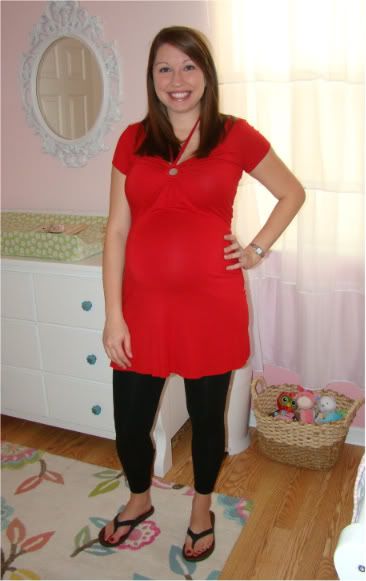 dress: Express
leggings: Motherhood Maternity
flip flops: American Eagle
This is probably the most comfy outfit I currently own (other than jammies of course). Thanks to my giant belly this "dress" is more of a top right now and I definitely wore it on my 21st birthday but it looked a bit different on me then :)
The hubs and I took the pups to the Fall Festival downtown today and they had a great time. Wentworth is feeling much better and hasn't had anymore episodes. So we figured we all needed a day out to celebrate everyone's health. Plus it wont be as easy to pack up both dogs once Sadie gets here so we were enjoying the little time we have left before our family grows even bigger!
The festival had all kinds of crafts and goodies, not to mention delicious food. We got the most amazing soba noodles with teriyaki chicken for lunch and I am still thinking about it. I may have to hunt them down for more later.
________________________________________________
And now for a little belly update....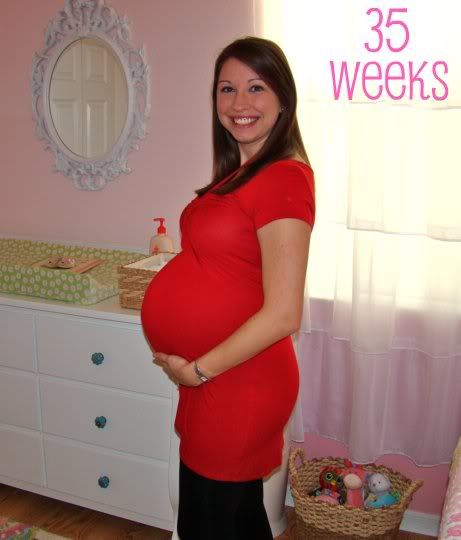 I decided to give a little sneak peak of the nursery with these pictures as well! It's all done other than a little organizing of a bookshelf that refuses to make me happy with it. Pictures of the whole thing will hopefully be up this week!
As I am sure you can tell, little Sadie is running out of room! The doctor says that he does not anticipate her being late since she doesn't have a whole lot of room left in there. And with as much as I love being pregnant (which I really do!) I definitely wouldn't mind her coming on time. I am really feeling that uncomfortableness now! Most positions I sit/lay/stand either make me feel like I can't breathe or pinch that pesky nerve that causes me a lot of pain in my back. Walking a lot really helps though. I always feel so good when I'm walking.
But other than that things are going really well. I am very happy to be at the 35 week mark. I hope she stays a few more weeks at least but getting to this point does put my mind at ease a bit.
Be on the lookout for nursery pictures this week!